---
I wanted to start this thread as I spent a morning reading through all this posts and collecting information. I have not bought a model yet so I wanted to inform myself and help with this information any user looking for info:
There are a few models of the RCD330 radio. Most of them are manufactured by two diferent companies: DESAY and NONAME. If you want to update the firmware in any of the following models please make sure you buy the NONAME version.
6RD 035 187A
The first one, 187A is the one without
APP
Button and the cheaper option. This model does not come with Apple Carplay or Android Auto on its default firmware:
The update of this Radio to a firmware that supports Android Auto or Apple Carplay is still a bit buggy for some users. My conclusion is, if you need Carplay or Android Auto move to the next model, elsewhere this may be the best budget option.  
6RD 035 187B
This model includes the APP Button and usually supports Apple Carplay and MirrorLink. There are two versions depending on the quantity of RAM the model has. (1GB or 512MB)  
This radio can be updated to a firmware with Android Auto only if the model is NONAME. The firmware with Android Auto has the same name as the one without (5314). DESAY model only supports carplay and mirrorlink and cannot be updated.
You can also find this model with Android Auto installed but at a more expensive price. They are the same but with different firmware. If you want to save money, buy the NONAME cheap version and update the firmware yourself.
6RD 035 187E
This radio does not need any update as it has the "perfect" firmware for everyone. It is also the most expensive option of all of them. If you don't want any complication, go for this model and you will not have to update nothing.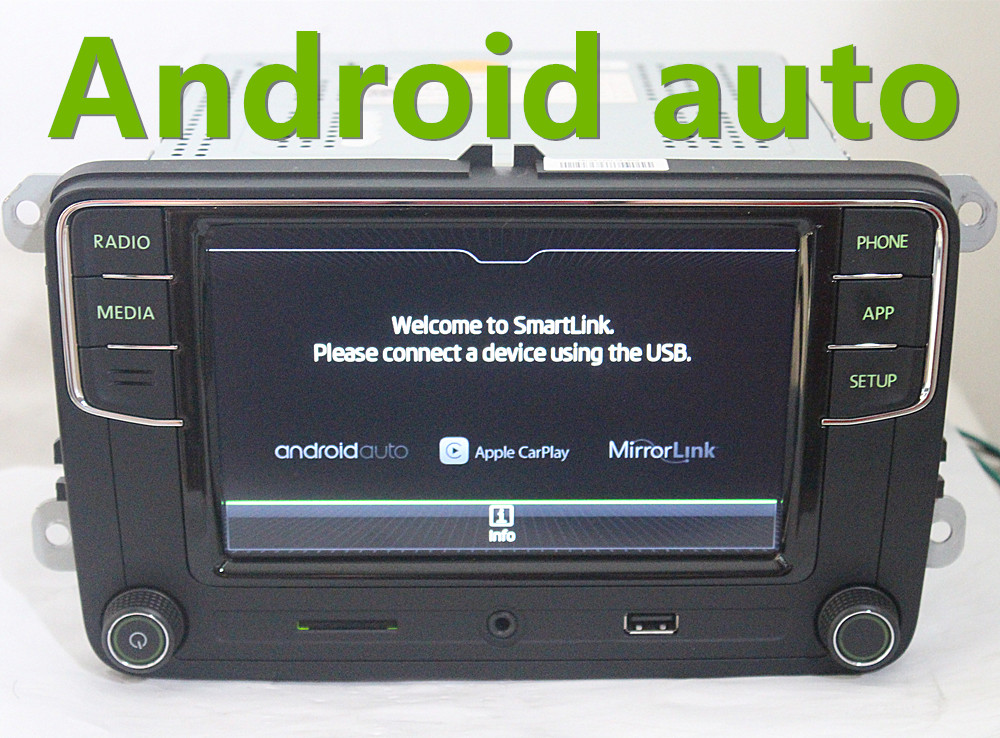 Solved FAQ

Which is the difference between DESAY and NONAME models?
The only difference between DESAY and NONAME is that you can't upgrade the firmware on the DESAY model.  
Can I switch my DESAY model to NONAME model?
NO, you can't switch from DESAY to NONAME because DESAY Works with Wince and NONAME Works with LINUX.
How can I differentiate if my model is NONAME or DESAY
The easiest way to know what it your radio model is to look at the firmware information:
-

         
NONAME Software Versions: 5314, 5515, Y510 …
-

         
DESAY Software Versions: 0317. Hardware Version: 036
The radio is asking me for a code?
If you need any code, the code is:
0000
I tried to update the firmware of 187B but it gives me a variant error?
If you try to flash the 5314 with Android Auto firmware and it gives you a Variant error you should flash the 5515 firmware first.
Once the 5515 firmware is installed try to reinstall the 5314 firmware you were trying to install before.
You can't keep the 5515 firmware because it has some bugs. More information can be found here:
What is the difference between Bluetooth Versions? (C180 or C210)

The difference between Bluetooth is that c180 doesn't have siri volum control

What functions of the Steering wheel with buttons work on these models?
All steering wheel fonction work on both depens only on your bcm module.
Which model is 512Mb of RAM or 1GB of RAM?

Desay Model has 1GB of RAM. NONAME model has 513GB of RAM. Both systems works well on android auto and carplay though.
Special Thanks


@GokTurks